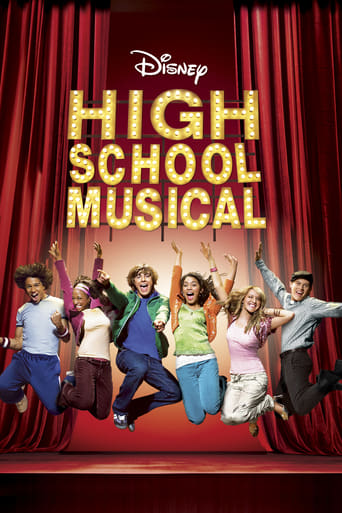 High School Musical (2006)
Troy, the popular captain of the basketball team, and Gabriella, the brainy and beautiful member of the academic club, break all the rules of East High society when they secretly audition for the leads in the school's musical. As they reach for the stars and follow their dreams, everyone learns about acceptance, teamwork, and being yourself.
...
Watch Trailer
Cast
Similar titles
Reviews
Troy is the captain of the basketball team and Gabriella is part of the science club, they come from 2 different worlds, but they are perfect together, once getting a callback from the drama club Troy can't decide between basketball and music,and with his dad being captain of the basketball team too it puts more pressure on Troy, but he juggles both of them very well and the whole school is inspired. The film is absolutely amazing, the cast is brilliant and the music is astonishing definitely a 10/10
More
It's New Years Eve at the ski chalet. Troy Bolton (Zac Efron) and Gabriella Montez (Vanessa Hudgens) are pushed by their parents to attend the kids party. They don't plan to join in but are forced to sing karaoke together. It's magic but they don't kiss at the end of the night. A week later at East High School in Albuquerque, New Mexico, Troy is the basketball star and Chad Danforth (Corbin Bleu) is his best friend. Gabriella turns out to be the new student trying to hide her scholastic stardom. Siblings Sharpay (Ashley Tisdale) and Ryan Evans (Lucas Grabeel) are the self-obsessed theater bullies. When a new musical is composed by Kelsi Nielsen (Olesya Rulin), neither Gabriella nor Troy are willing to sign up but both secretly want to sing together.This is a squeaky clean teen TV movie. The writing is a little weak. The tension is really low considering the limited amount of danger. There is a message about going beyond one's clique. The songs are unrelentingly cheerful and a couple of them are catchy. It is a cheesy high school teen drama and definitely rated PG at most. There is nothing outrageously wrong other than the weak writing. The actors are photogenic and sincere. They have some star quality but their best quality is a try-hard unstoppable drive.
More
10 years ago this first High School Musical film launched with very little fanfare, and no real big names in it. Little did Disney know that it would capture the imagination and hearts of so many young people, spawn two (at present) sequels and become a lasting phenomenon.Is it surprising when you watch the actual film? No, not really. It's an hour and a bit of fun, the young cast (and they do look young) all give good performances, and it's enjoyable for all ages.The make it or break it quality with any musical are the songs, and of the three 'High School' films this is the one with the most iconic songs.No, it's not Shakespeare. But it is an almost modern version of Grease. I'm not a huge musicals fan, but I enjoyed it.
More
The first HIGH SCHOOL MUSICAL was just incredible and that's what I am going to be reviewing.The plot, I won't explain, because you don't need to know or do you already know what the plot is about because it was really amazing and fantastic.Now, I get into the other stuff about this film. High School Musical is just incredible with every single aspect of this film and this film is just really spectacular in it's story and amazing dancing choreography.The story is really amazing and fantastic, but the film is definitely good in telling a great story. Disney Channel done a great job and it is really amazing the way they told this movie. It does really cool things and there are some scenes that I hate and I don't want to get into that.The acting is amazing in this film. Zac Elfron and Vanessa Hudgens plays the two main characters and they had good chemistry. Lucas Grabeel and Ashley Tisdale were really good as brother and sister Ryan and Sharpay Evans and fantastic in this film, but their performances were a little bit over the top.Corbin Bleu and Monique Coleman plays Chad and Taylor and they do a really good job as well and they give incredible performances.The music and songs in this film are really good amazing and very fantastic and the dance choreography for the musical numbers are really amazing and spectacular and I think it really does shine out.Overall, HIGH SCHOOL MUSICAL gets a 7 out of 10 and the film is really amazing in everything in detail, from the acting to the music to the dancing to the story to the dialogue, this film is really amazing and it stands out as the weakest film of the trilogy to some people and for me, this is the weakest of the trilogy, but it also a stand-out of the three films.
More