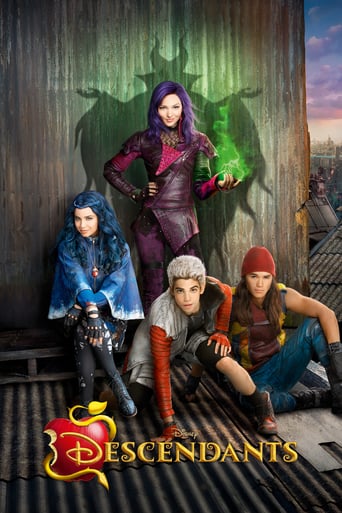 Descendants (2015)
A present-day idyllic kingdom where the benevolent teenage son of King Adam and Queen Belle offers a chance of redemption for the troublemaking offspring of Disney's classic villains: Cruella De Vil (Carlos), Maleficent (Mal), the Evil Queen (Evie) and Jafar (Jay).
...
Watch Trailer
Cast
Similar titles
Reviews
When you love your 10 year old daughter very much, this is what you do. Like listening to Taylor Swift sing. Or trying an Impossible Burger. Or just taking a bullet. This was a painful 112 minutes (yes I counted!) and by the gods, I truly feel like I am dumber than I was before. I could go on and on about how terrible this was, but just looking at the picture above has caused my head to hurt and my body to cramp up. I would rather have my hair and fingernails beauty shopped by my daughter and her friends and also have all my teeth pulled by a rusty pair of pliers while letting numerous insects lay their eggs in both of my ear canals than see part 2. But as I said, I love my daughter very much. Bullet #2 is on its way...
More
"Descendants" is an American television movie from August 2015, so this one is roughly 1.5 years old now. It is a Disney Channel production, so you basically know what to expect here. At over 105 minutes, it is relatively long. Director is 3-time Emmy nominee Kenny Ortega, the man behind the Michael Jackson documentary "This Is It" and the duo who wrote the screenplay here also worked on the fairly known "Runaway Bride". But now lets talk a bit about this one here: It is basically a modern take on villain (and good) characters from several old Disney movies. But even if these bad guys are included, it is much more about the next generation, namely about the children. So we see mini-Jafar, mini-Maleficent, mini-Cruela (a boy) and mini-Evil Queen, who initially have the intention to steal a powerful magic wand, but their contact with peers their age makes them question their parents' approaches. So yeah, there is also a bit of a lesson in here, but honestly, it's really difficult to take the film seriously in terms of the drama, namely the kids building up resistance against their mothers' and father's maliciousness. Also the romance story isn't that good, but I can see why it is essential here as a film with these young characters and the school setting and all. Besides, at times the film tries to channel Glee too much sometimes with one guy basically looking the exact same like the wheelchair boy and another character actually sitting (and dancing) in a wheelchair.These almost 2 hours are at its best when they are just fairy tale references basically, like the Evil Queen's daughter showing Prince Charming the mirror, just one tiny example. And the music was also decent, even if it gets worse and a bit generic and cheesy after the first two amazing numbers. Lead actress Dove Cameron is not only giving the best performance in the film, but also delivers in terms of vocals and singing. Her number with Chenoweth (her movie mother and the most known actress in here probably) was pretty amazing. As for Dove Cameron, she is mostly known for "Liv and Maddie" and judging from what I saw in here, she does not only have amazing looks, but also star potential. I would love to see her one day in something like "La La Land". We'll see if she can get that far. I hope so. Anyway, "Descendants" became quite a hit and the awards recognition shows you that as well. Also there is a(n animated) television series based on the characters, there's music videos and a soundtrack album and there will be a sequel sometime later this year I think, so yeah for a small screen film it certainly made huge waves. I can see why and I recommend seeing it. It is not a perfect film and it's ridiculous how the kids prevail against all these super evil parents with their powers, who are basically just shadows of their animated selves, but I guess they have to be to get through the message and entire approach here about teenage power and willingness to stand up for what you believe in and who you really are. A bit shoddy there, but I can forgive them for this in the face of all the good. Thumbs up.
More
This is a great concept, I don't know why Disney did not turn it into a theatrical film. As per the television standards, this film succeeds from all the aspects. The casting was good, but the focus was not distributed equally. May be they kept it for the sequels, in each to tell everyone's tale as the centre. So this is about the descendants of the greatest villains of Disney's fairy tales. They all got admitted to the Auradon Prep located near to their banished land. A chance to follow their own path, particularly to cut off bad influences of their parents. But would they accept the offer and make it work or there any agenda to avenge for the past are the remaining parts.It's a musical like any fairytale. But average tracks. The performances were good, even the graphics are very acceptable. So colourful and visually appealing. I think this kind of trend began with the recent success of 'Maleficent'. So you must not expect the moral values, particularly I'm saying it for the parents. Because, this is about the villains and their children, so the majority of the film leans on the negative factors. But as usual, all ends well, if you consider that a message or learning point for your children.Directed by 'Hocus Pocus' filmmaker. I was looking forward to watch it since it came out. Finally, I saw it and enjoyed it, but not the great film. The children's would love it, especially those who are familiar with the characters and its origin. Surely lot to expect, but I advise to keep your expectation low to benefit maximum. I have heard, they are already making the second film, which is due later this year. So I hope this time I watch it on the time.6/10
More
Descendants is a movie based on the children of four major, evil, villainous characters of Disney, and had great potential. However, it the worst movie I have ever seen. There was no development of all the things that could have happened, the great story plot that it could have been. Most of the story becomes very lame and boring 'school' experiences the villains' children have, and is uninteresting throughout. There could have been huge schemes and subplots to make this complicated, but it was basic and dull, like mostly all movies that air on Disney Channel. Again, for some reason, it seems that the shows and movies on Disney Channel are all strangely lame. The character choices for the villains' children was terrible. Only the Aladdin one was suitable, and no one else. The daughter of the evil witch from Snow White was very annoying, and so was the other boy. A bad character choice, an extremely boring storyline, and terrible songs for the most part. *4/10*
More