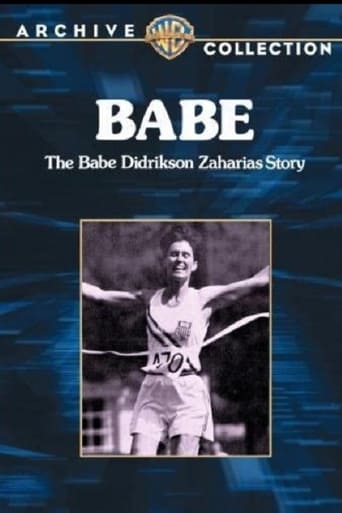 Babe (1975)
This is the life story of Babe Didrikson Zaharias, one of the greatest athletes of the 20th century, from her early Texas tomboy days to her Gold Medal triumphs at the 1932 Olympics, her remarkable career as a champion golfer, her fulfilling marriage to wrestler George Zaharias, and the final battle with the only thing tougher than she was.
...
Watch Trailer
Cast
Similar titles
Reviews
It didn't hurt Susan Clark that she looked a whole lot like Mildred Didrikson Zaharias in her portrayal in the film Babe. Like Jim Thorpe for the men, Zaharias was voted as the greatest female athlete in the first half of the last century.Like Thorpe she got the honor because she excelled at so many sports. A lot fewer sports because women were not allowed to compete in them. Nevertheless she made her mark in basketball and even in baseball where briefly in Babe she's seen with the famous traveling bearded House of David team. No less than Grover Cleveland Alexander toured with them after his career was over. But like Thorpe she excelled at women's track and earned herself two Olympic gold medals in front of the home crowd in Los Angeles in 1932. Later on when she learned and mastered golf she was the dominant attraction for the women's Professional Golf Association. She was the face of women's golf until her death in 1956.Susan Clark and her future husband Alex Karras are nothing short of superb as Didrikson and her husband, wrestler George Zaharias. Their marriage was not always as serene as pictured here once Zaharias got over his alpha male issues. In fact Babe Didrikson had a few lesbian flings and one long term relationship. In 1976 that was not going to be shown on prime time TV.Still Zaharias was supportive of his wife in every way and Babe earned prime time Emmys for Clark as Best Actress and for the musical score.And Babe Didrikson is a role model still for women athletes.
More
Mildred Ella (Babe) Didrikson Zaharias was born of Norweigian parents on June 26, 1911, in Port Arthur, Texas. Today, as you drive through Beaumont, Texas on I-10, right there off the feeder road on the north side is the Babe Zaharias museum. Depending on your sport, and on your age, you may remember Babe as a track and field star who broke world records in bunches and won Olympic gold. Or, you may remember her as the first great woman golfer, even though she didn't even take an interest in the game until she was in her 20s. She began winning tournaments about one year after she took up the game. One year, as an amateur, she won 17 in a row.Susan Clark does a fine job as 'Babe' Zaharias, and ex-football player Alex Karras does an equally good job as her eventual husband George Zaharias. The real Babe was a tall and athletic woman, and Clark measures up well to Karras who is over 6 feet tall.This is a fine biographical movie. It tells Babe's story, it capturers her spirit, and ends with her second bout with cancer when she was in her 40s.
More
A straightforward and touching portrait of a great athlete. Back in October 1981 my mother was playing in a national golf tournament and my aunt and uncle were looking after me for a couple of days. "Babe" was on TV that evening and the film has always stuck with me. The acting is perfectly done and the subject matter treated with great sensitivity.Finally got to see it again tonight and the memories came flooding back - of me as a 9 year old anxiously waiting for his parents to come home while worrying about the fate of a great golfer and why this disease called cancer was so unfair.7/10
More
"Babe" was simply one of the things I grew up watching. After it originally played on CBS in 1975 it was lavished with several Emmy nominations, then rerun in syndicated markets (pre-FOX Metromedia and so on) years afterward. It told the very simple story of Texan Babe Didrikson who was an Olympic athlete in the 30's and something of a womens' golf pioneer in the 40's-50's. What I remember was actress Susan Clark's genteel, understated approach to the decidedly feminist character. There was a lightness in the script enhanced by Ms. Clark's somewhat self-deprecating portrayal of Ms. Didrikson, then a fierce sense of independence and not wanting to show vulnerability- especially in the second act of the film when she fights cancer. While she plays sports alongside the men well, she longs to be as feminine as possible while courting future husband Zaharias (Clark's own future husband Alex Karras) A memorable scene shows her coming home from a beauty salon, transformed with hair and makeup, all along given encouragement by her prettier sister. It is as charming as all of her interplay with husband Zaharias. Would be a real gem on home video.
More