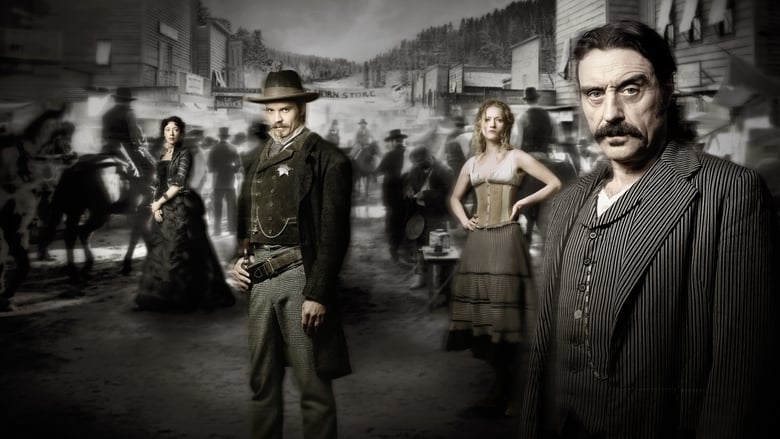 Deadwood Season 2
1877. A new day is dawning in the Black Hills outlaw camp of Deadwood. For better or worse, times are changing, and the transformation from camp to town is imminent. Unsavoury new arrivals - looking to cash in on the lucrative anarchy – and a government of outsiders usher in an era of hard decisions and brutal power struggles among the camp's founders. Seth Bullock is the new Sheriff and forced to stand his ground against two conniving brothel owners: cutthroat Al Swearengen, and his chief rival, the cunning Cy Tolliver. The women of Deadwood prove their mettle as Calamity Jane, Alma Garret, Trixie and Joanie stake their claim in this dangerous town of scheming misfits, all learning the hard way... fortune comes with a price...
...
Watch Trailer
Deadwood Season 2 Full Episode Guide
Episode 12 - Boy the Earth Talks To
First Aired: May. 22,2005
Mining magnate George Hearst arrives while the camp is preparing for a celebration. Yankton officials react to a Swearengen power play. Violence erupts among the town's Chinese population.
Episode 11 - The Whores Can Come
First Aired: May. 15,2005
Jarry worries that Bullock and George Hearst will side with Montana on the annexation issue and a showdown looms between Wu and Lee. Andy Cramed holds his first religious service, though he doesn't count on Tolliver's participation.
Episode 10 - Advances, None Miraculous
First Aired: May. 08,2005
Cochran's ominous prognosis puts the camp on alert. Smallpox survivor Andy Cramed returns as a minister. Swearengen asks an unlikely pair to pull a scam on Commissioner Jarry. Martha Bullock has second thoughts about staying in Deadwood.
Episode 9 - Amalgamation and Capital
First Aired: May. 01,2005
Wolcott draws Utter's ire during the questioning of a suspect. Merrick is overzealous in re-establishing his newspaper. Fields and Hostetler have little luck with a wild horse. Swearengen alters his agreement with Miss Isringhausen.
Episode 8 - Childish Things
First Aired: April. 24,2005
Wolcott reports his gold-claim acquisitions to his employer, George Hearst, and Nuttall shows off his new bicycle. Meanwhile, Miss Isringhausen reaches an agreement with Swearengen, who also meets with Bullock to discuss alternatives to annexation.
Episode 7 - E.B. Was Left Out
First Aired: April. 17,2005
Alma and Bullock discuss the camp's financial future. Swearengen shares news about an important visitor. Wolcott seeks to make a deal with Utter involving Wild Bill Hickok's last letter. Tolliver relies on Lee's expertise.
Episode 6 - Something Very Expensive
First Aired: April. 10,2005
Merrick gives a schoolteacher a tour of the camp. An influx of Chinese labor enters the workforce. Swearengen is finally able to honor appointments. Alma suggests the idea of a bank; and Bullock insults the owner of a gold claim.
Episode 5 - Complications
First Aired: April. 03,2005
Doc Cochran advises Dan and Johnny how to help Swearengen's recovery. Thriving business at a new brothel leads to a startling discovery by Tolliver. Merrick gets a scoop from Yankton about gold claims. Bullock's badge comes in handy for Commissioner Jarry.
Episode 4 - Requiem for a Gleet
First Aired: March. 27,2005
Alma fires Miss Isringhausen as her ward's tutor. Bullock struggles with domestic life. Cochran suggests a risky surgical procedure for an ailing Swearengen. Dority deals with a former associate's robbery proposal.
Episode 3 - New Money
First Aired: March. 20,2005
Swearengen's deteriorating health worries his employees. Alma ponders a real-estate move after surveying her operation. A mining-company agent makes his presence known. Maddie lets Joanie in on a secret about their first client.
Episode 2 - A Lie Agreed Upon (2)
First Aired: March. 13,2005
Calamity Jane returns to camp; Swearengen nurses his wounds while Dan and Johnny await Bullock's next move; Joanie and Maddie prepare their new place of business; Alma is asked to make a decision about her future. Maddie: Alice Krige. Adams: Titus Welliver.
Episode 1 - A Lie Agreed Upon (1)
First Aired: March. 06,2005
Bullock and Swearengen settle their most recent score with a bloody brawl, and Joanie welcomes her new business partner---with or without Cy's blessing. Also: a stagecoach brings important passengers; and Utter and Bullock investigate a shooting at Tom Nuttall's.
Seasons
Similar titles