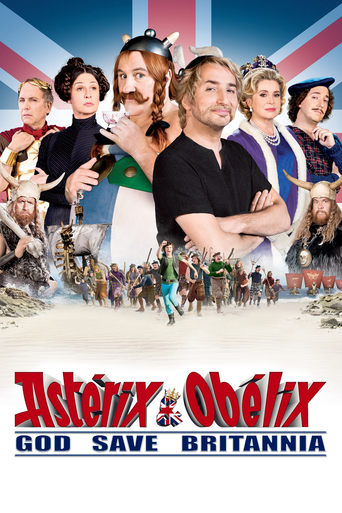 Asterix & Obelix: God Save Britannia (2012)
Asterix crosses the channel to help second-cousin Anticlimax face down Julius Caesar and invading Romans.
...
Watch Trailer
Cast
Similar titles
Reviews
This is a very cute adaptation (with updates) of the classic Asterix comics. The version I had only had French audio with subtitles available in English. This wasn't a problem, as one of the running gags of the film is that French actors playing English characters (most notably the impossibly elegant Catherine Deneuve) speak with their French with horrible English accents. The prize for best/worst Frenglish goes to Charlotte Le Bon, who sounds like she's flunking her first semester of French. The jokes are generally cute-but-harmless, notably the 5:00 hot water break that defines life in England at the time of Caesar. There are references to Star Wars and A Clockwork Orange that don't appear in the 1966 source material, and an Indian character who might strike a contemporary audience as uncomfortable. Still, of all the live-action Asterix films, this one seems to best capture the spirit and absurdity of the comics. Very sweet, very fun, and well worth catching on video.
More
Amusing and fun adventure with Asterix and his faithful friend Obelix fighting Romans in Britain. This was the fourth live-action version of the popular Astérix & Obélix comic books . The diminutive Asterix (Edouard Baer who in 'Asterix and Cleopatra' played a role called Otis) and his rather larger companion Obelix (Gerard Depardieu) , warriors of the last village in Gaul still free after the Roman invasion, set out on a mission to deliver a barrel of their druid's famous magic potion to help Asterix's cousin in Britain fight off the invading Roman army . The year is approximately 50 B. C, Britain is entirely occupied by the Romans commanded by Julius Caesar . Well, not entirely..One small village of indomitable Bretons still holds out against the invaders . And the life is not easy for the Roman legionaries who garrison the fortified camps. Similarly happens on Gaul, where a small village located in Armorica live our friends, the intelligent hero Asterix, the menhir delivery and addicted to wild boar Obelix, the venerable Panoramix with his potion which gives the drinker incredible energy, the majestic,hot-tempered, brave chief of the tribe Abraracourcix... There come a Asterix's cousin asking for help against Romans. As always the perilous mission is immediately trusted to shrewd and cunning Asterix . Obelix, ready to drop everything and go off on a new adventure with Asterix and this time accompanied by Goudurix (Vincent Lacoste) and Jolitorax (Guillaume Gallienne de la Comédie Française) . Asterix and Obelix then cross the channel to help second-cousin face down Julius Caesar (Fabrici Luchini) and invading Romans . As they set out to deliver a barrel plenty of powerful potion getting superhuman strength and brewed by druid Panoramix . His mission transport it for the Britons and vanquish the invaders ; fighting , as always, against the stupid Romans , pirates and a mean Julius Caesar .This is a nice adventure with hilarious moments here and there , and has Asterix and his inseparable friend battling , as usual, against silly Romans . Full of customs critical about actual British way of life and modern anachronisms that's common thing in comic books . The cartoon movie brilliantly captures the outrageous adventures, tongue-in-check, satire , absurd humour from original story with the same title and drawn by Albert Uderzo and writing credits by Rene Goscinny . Based on René Goscinny and Albert Uderzo's "Asterix in Britain" and "Asterix and the Normans", both published in 1966 . As usual, on the finale the village people celebrating a wild party and eating boars in a gargantuan lunch . Being an European co-production there appears several known French actors such as Catherine Deneuve as Reine Cordelia , Charlotte Lebon as Ophélia , Dany Boon as Têtedepiaf , Jean Rochefort as Lucius Fouinus , Gérard Jugnot as Le Capitaine des pirates ; Spanish players such as Tristan Ulloa , Javivi and Italian such as Luca Zingaretti . Jolly and lively musical score by Klaus Badlet with a catching song on the start and the ending . Colorful cinematography filmed on location in Wicklow Town, County Wicklow, Ireland , England, UK , France , Hungary and Malta . The motion picture was professionally directed by Laurent Tirard . This passable fourth entry shot in live acting was preceded by ¨Asterix vs Caesar¨ directed by Claude Zidi with Christian Clavier , Robert Benigni , Laetitia Casta , Arielle Dombasle , ¨Asterix and Cleopatra¨ by Alain Chabat with Monica Belucci , Jamel Debbouze ,Claude Rich , Marina Fois , Gérard Darmon and ¨Asterix and the Olympic Games¨ by Frederic Forrestier with Clovis Cornillac , Santiago Segura, Monica Cruz , Jean Pierre Castaldia and Janel Debouzze . The film appeal like to Asterix and Obelix fans , it's a funny entertaining for kids and grown-ups and nostalgics
More
This is not the best of the Asterix series (my favourite is still Asterix & Cleopatra) but it is still quite good and certainly deserves more than an average of 5.3...Perhaps many viewers failed to see the humour in laughing at themselves.I thought the film was great fun and so full of funny details that it merits a second viewing to catch all the quick jokes in the background, the signs, etc.It's certainly much better than the latest Hollywood "comedy" productions that resort to gross depictions of bodily fluids as an inept attempt at humour. My only reason for not giving this 10 stars is that I don't like the actor portraying Asterix as much as the one who did the first films in the series; I don't find him as entertaining as the original. Still, that didn't stop me from laughing out loud many times through the story.
More
The famous comics characters by Goscinny and Uderzo ride again, this time impersonated by real actors: Obélix by Gérard Depardieu who makes an excellent imitation of the comics character and Astérix by Edouard Baer who doesn't look much like his comics counterpart. The story portrays a pretended help asked by the Queen of Britain from those Gauls that have been resisting for so long in a small village to the Roman invasion since now Julius Caesar has invaded Britain which he intends to conquer. It develops itself in a continuous series of gags and funny situations with somewhat disguised references to political and social usages and practices of our present times. The dialogues above all convey those references on purpose which increases and enhances the funny nature of the respective scenes. For instance the Queen of Britain (performed by the great beautiful actress Catherine Deneuve) dresses practically like she could have dressed nowadays and wears a crown 100% identical to the present British Queen one. Some gags are very good some others not so funny. The special visual effects are first class. The final musical show in the end is fabulous. You may go to see this movie anyway with the assurance that you will have great fun.
More