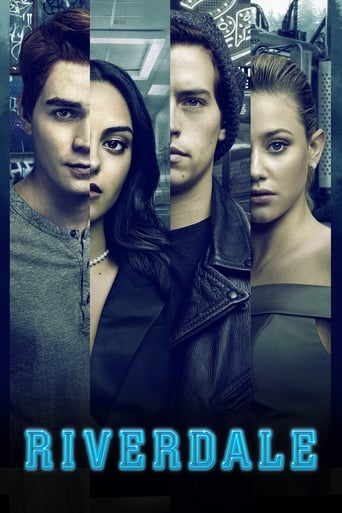 Riverdale Season 5
Set in the present, the series offers a bold, subversive take on Archie, Betty, Veronica and their friends, exploring the surreality of small-town life, the darkness and weirdness bubbling beneath Riverdale's wholesome facade.
...
Watch Trailer
Riverdale Season 5 Full Episode Guide
Episode 19 - Chapter Ninety-Five: RIVERDALE: RIP (?)
First Aired: October. 06,2021
As the gang pick up the pieces after a rough year back in Riverdale, an incident at Pop's forces them to make a difficult decision about the future of the town.
Episode 18 - Chapter Ninety-Four: Next to Normal
First Aired: September. 29,2021
Refusing to accept what's going on around her, Alice creates an imaginary musical fantasy world in which the Coopers are one big happy family again. But as her mother continues to spiral, Betty does her best to pull her back to reality.
Episode 17 - Chapter Ninety-Three: Dance of Death
First Aired: September. 22,2021
After learning that a friend has gone missing, Tabitha enlists help from Jughead and Betty to investigate the disappearance. Penelope plants doubt in Kevin's mind, which leads him to confront Cheryl about the ministry. Finally, an explosion at the mines leaves several lives hanging in the balance.
Episode 16 - Chapter Ninety-Two: Band of Brothers
First Aired: September. 15,2021
After hearing some unexpected news about his former commanding officer, Archie opens up to Uncle Frank about his time in the Army. Veronica comes up with a clever way to raise funds after Chad calls the SEC on her. Finally, Cheryl and Kevin attempt to take control of the ministry, and Jughead goes on an apology tour.
Episode 15 - Chapter Ninety-One: The Return of the Pussycats
First Aired: September. 08,2021
After going MIA during the middle of her world tour, mega-star Josie McCoy returns to Riverdale unexpectedly. But it's not until she reunites with her former bandmates Valerie and Melody, that she opens up about the real reason why she's back. Elsewhere, Veronica gets creative after a surprise visit from her old friend Alexandra Cabot. Finally, Toni steps in to help Tabitha and Veronica land a deal.
Episode 14 - Chapter Ninety: The Night Gallery
First Aired: September. 01,2021
Cheryl enlists the help of Archie, Kevin, Fangs and Reggie after she learns there is palladium underneath her maple groves. Meanwhile, Betty and Alice confront a trucker who may have been involved in Polly's disappearance. Elsewhere, Jughead and Archie each confront events from their past.
Episode 13 - Chapter Eighty-Nine: Reservoir Dogs
First Aired: August. 25,2021
While helping Eric deal with his PTSD, Archie is forced to confront his own past trauma in the Army. To find the Lonely Highway killer, Betty and Tabitha come up with a way to lure truckers to Pop's. Cheryl extends an invitation to Kevin and Veronica gives Reggie a shot to prove her wrong.
Episode 12 - Chapter Eighty-Eight: Citizen Lodge
First Aired: August. 18,2021
Hiram shares with Reggie his origin story and how he went from a young Jaime Luna to the powerful kingpin of Riverdale. Elsewhere, Reggie reflects on his relationship with his father.
Episode 11 - Chapter Eighty-Seven: Strange Bedfellows
First Aired: August. 11,2021
In the aftermath of the prison break at Hiram's jail, Archie leads the charge to round up the remaining convicts on the loose. Tabitha reaches out for Betty's help when she realizes Jughead is missing. When Penelope re-enters the fold, Cheryl becomes suspicious of her true intentions.
Episode 10 - Chapter Eighty-Six: The Pincushion Man
First Aired: March. 31,2021
While preparing for the school's Parent-Teacher night, Archie is caught off guard when his former Army General shows up in Riverdale with some unexpected news. Cheryl pushes back after hearing that Hiram and Reggie have expressed interest in taking over the Blossom maple groves. Jughead's unconventional way to get through a case of writer's block causes Tabitha to be concerned for his safety. Finally, Betty and Alice receive some unexpected visitors.
Episode 9 - Chapter Eighty-Five: Destroyer
First Aired: March. 24,2021
After the Bulldogs lose several football games, Archie and Veronica come up with a plan to boost school spirit. Jughead turns his attention to a student who he thinks might need his help. Betty seeks guidance from Cheryl after being faced with a difficult decision to make. Finally, Kevin is forced to face a dark moment from his past.
Episode 8 - Chapter Eighty-Four: Lock & Key
First Aired: March. 17,2021
A big announcement forces everyone to take stock of their current lives. Cheryl sets a risky plan in motion after learning some surprising news about Toni. Jughead tries to make sense of a strange encounter he had. Kevin and Fangs make a big decision about their future together.
Episode 7 - Chapter Eighty-Three: Fire in the Sky
First Aired: March. 10,2021
Following in his Grandpa Artie's footsteps, Archie begins to recruit Riverdale's new volunteer fire department. Toni's attempt to lure Cheryl out of Thornhill and back into daily life in Riverdale leads to more tension between the two. Elsewhere, Betty, Alice and Kevin's latest investigation leads them into conflict with Hiram. Finally, as Veronica comes up with a risky plan to support Riverdale's local businesses, Jughead and Tabitha begin to unravel an old mystery surrounding some strange sightings in the town.
Episode 6 - Chapter Eighty-Two: Back to School
First Aired: February. 24,2021
Archie, Betty, Veronica and Jughead prepare for their first day as Riverdale High's newest teachers. Veronica introduces her husband Chad to the group after he shows up unexpectedly in Riverdale. After realizing they are out of funds, Archie and Toni turn to Cheryl for help restarting the football and cheer teams. Finally, Betty, Kevin and Alice follow a lead after learning that Polly may be in trouble.
Episode 5 - Chapter Eighty-One: The Homecoming
First Aired: February. 17,2021
Toni, Alice, Archie and Kevin fight to keep Riverdale High's doors open after learning that its budget had been cut by Hiram Lodge. Veronica gets creative when she discovers Chad is having her followed. Jughead starts a new job after debt collectors show up in Riverdale.
Episode 4 - Chapter Eighty: Purgatorio
First Aired: February. 10,2021
After spending seven years away from Riverdale, Archie returns to find the town is now under Hiram Lodge's grip and on the verge of becoming a ghost town. When Toni catches him up on what's been going on, Archie reaches out to the rest of the gang to return home.
Episode 3 - Chapter Seventy-Nine: Graduation
First Aired: February. 03,2021
With Graduation Day around the corner, the gang consider their next steps beyond Riverdale High. Archie learns whether he will be able to graduate with his classmates. FP makes a difficult decision about his and Jellybean's future.
Episode 2 - Chapter Seventy-Eight: The Preppy Murders
First Aired: January. 27,2021
Betty and Jughead's investigation into the auteur takes a twisted turn after receiving a call from Bret. Meanwhile, Archie is forced to make an impossible decision when the person responsible for his father's death needs his help. Elsewhere, Veronica and Hermosa come up with a plan to force Hiram into early retirement, and Cheryl makes a business move.
Episode 1 - Chapter Seventy-Seven: Climax
First Aired: January. 20,2021
Betty and Jughead's investigation into the auteur leads them to the discovery of a secret underground for red-band screenings. Elsewhere, in order to impress the visiting Naval Academy Commandant, Archie agrees to participate in a boxing exhibition against another candidate - KO Kelly. Meanwhile, as Cheryl prepares for prom, she stumbles upon a major secret that Toni's been keeping from her.
Seasons
Similar titles