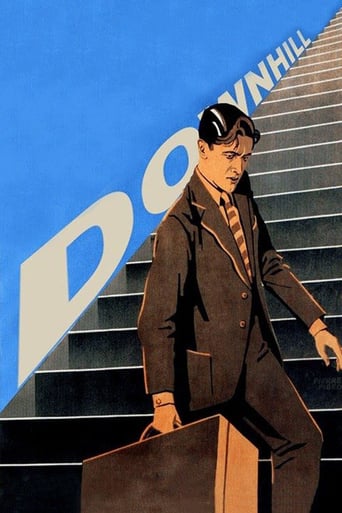 Downhill (1928)
Roddy, first son of the rich Berwick family, is expelled from school when he takes the blame for his friend Tim's charge. His family sends him away and all of his friends leave him alone. Through many life choices that don't work out in his favor, Roddy begins to find his life slowly spiraling out of his control.
...
Watch Trailer
Cast
Similar titles
Reviews
Originally conceived as a farce by its two authors, Ivor Novello and Constance Collier, it had a short run in the West End and longer in the provinces where Novello, who also starred, thrilled female fans by washing his bare legs after the rugby match!! The wit didn't transfer to the movie (only the title!!) the plot of which was so melodramatic it must have given Hitchcock, Novello and others of the sophisticated cast a bit of a laugh.The initial part shows Ivor as Robby Berwick, a school captain and star footballer at an exclusive English boarding school. He is lured into a threesome involving his best friend Tim, a scholarship boy and a grasping waitress Mabel (shades of "Of Human Bondage"). When Mabel finds herself pregnant she makes a fuss at the school and picks out Robby as the father (even though it is really Tim) as she sees his wealth as a bonus. He promises never to break his trust as Tim cannot afford to be expelled. The nicest scene in the movie for me is when Robby is left in charge of the little shop, a boy comes in with a halfpenny and Robby sells him a box of chocolates, next thing all his little mates are at the door waving halfpennies - very funny and a chance for Ivor to have a bit of fun.Alfred Hitchcock finds a way to add some wonderful touches - his title "the world of make believe" shows Robby, thrown out of home, is now working as a waiter. The couple move from the table and he then discreetly pockets what looks like a wallet but suddenly the camera moves back and you find Robby is a waiter - in a play, the two he was serving are the stars and elusive Julia has once again forgotten her cigarette case!! Isabel Jeans just sparkles as the money hungry Julia, she thinks Robby is a sweet boy but Archie (Ian Hunter) is the one who pays the bills - that is until Robby comes into a 30,000 pounds inheritance, then suddenly the society pages carry photos of Robby and Julia, his wife. She still hasn't given up Archie and both of them continue to bleed him dry until ..... his inheritance exhausted he becomes a gigolo!!It is when Robby can't go any lower that Hitchcock is able to experiment with unusual shots - a descending escalator to show his downward spiral, dream sequences, intensified by his delirium, that blur all the people who have bought him down sitting at a table playing cards. Perhaps the finest of all (in my opinion) a montage of super imposed images starting with the squalid lanes of the East End, then each street getting a little bit neater and nicer until Robby is back in his own gentrified surroundings.An excellent film that shows some innovative Hitchcock touches.
More
I found this on the internet archives.It was free,but,why do classic distributors and broadcast classic film channels have less respect for film history,especially if it open? selfishness.So films like this end up as public domain.You have to be really be into classic films which the mainstream side is not much into,except for what is introduced for them, by big entertainment business.They don't go deep on the internet to fine obscurities like this .They follow order from big business and big t.v.Ivor ,I though,was portraying a college student,It looked it .But it was a private boarding school,he was suppose to play a teenager.The plot? After he and his best friend Tim,played by Robin Irvine, both dance with Mabel,played by Annette Benson,in which Tim does a little necking with her. She goes to the dean and accuse both of causing her to be pregnant.Ivor takes the blame for Tim.Ivor gets kicked out of school.His father Sir Thomas Berwick,played by Norman Mckinnel,does not believe him neither.So Ivor decide to go out and be on his own.Things star looking good when he lands as an extra for the London stage,sound like Ivor is portraying some of his real life.The problem is that he falls in love with the leading actress played by a young Isabel Jeans,GiGi's Aunt,,who has a sugar daddy played by an early Ian Hunter,who looks as old he did in the talkies.It when Ivor gets a letter that one of his dads relatives has left him 30,000 pounds ,that he thinks that it's so much money .He ends up marrying Isabel.She start to drains him financially and goes back to Hunter.Now poor Ivor is a dancing gigolo for ugly wealthy broads at a day club.He gets fed up with that.He gets so delirious that in his run down armament his buddy both black and white ,decide to put him on a little ship to help over come his sickness .He gets better .He end up going back to daddy and Daddy apologizes and even though Ivor is an adult now he goes back to finish school.In spite of that it was still good .Excellent print for public domain 09/5/13
More
A slapdash early effort by young director Alfred Hitchcock, "Downhill" a. k. a. "When Boys Leave Home," delivers moments of brilliance undone by an underbaked plot.Young Roddy (Ivor Novello) is expelled from his boarding school when he is charged with a major infraction involving a woman at a local bake shop. No use appealing to his father, who stares at him with frightening disgust. Roddy makes his way alone in life, coming up against a pair of theatrical con artists before landing in a seedy music hall, providing dances for lonely women at 50 francs a whirl. It all gets to be too much for the frail boy.Poor Roddy can't catch a break, even in cyberspace. A lot of reviewers, both here at IMDb.com and elsewhere, have at the fellow for one deathless line he delivers when his headmaster drops the hammer: "Can I - Won't I be able to play for the Old Boys, sir?" It's a line dripping with ingenuousness, but actually works better in context. Roddy is a true believer in the code of his school who runs up against a world that doesn't allow for second chances.Based on an adaptation of a play Novello co-authored with Constance Collier under the pseudonym "David L'Estrange," "Downhill" pushes the action from one setpiece to another with little explanation or character development. Hitchcock seems far more enthusiastic about his set pieces and camera tricks than giving the viewer anything to hold onto. Even dialogue cards are kept at a minimum in this very non-verbal silent film.The best sequence, a section called "The World Of Make-Believe," plunges Roddy into the harsh world of show biz, where conniving actress Julia (Isabel Jeans) and her significant other Archie (Ian Hunter) set up a suddenly cash-rich Roddy.Watching Archie as Roddy pledges his love to Julia, smoking and drinking and looking frightfully bored as he awaits the chance to offer his casual blessing to their ersatz union, features terrific acting from all concerned. Hitchcock does well in this section by playing up the humor of the situation. But when it's over, there's no explanation or attempt at grounding things. What's this kid going to do about his new marriage? We just follow Roddy to his next stop on his downhill journey.Hitchcock presents us with some arresting images. One favorite of mine shows a daytime view of Roddy's boarding school dissolving into a scene of London at night. Anyone curious at how England looked in the 1920s will enjoy these views for their travelogue value, anyway.Novello is worthy, too, carrying the film as he must. He's too old for the part, but believably earnest even as he goes from bright student to all-around chump. A better film would give us more of a basis for this, but all we get is some eye fluttering from Novello to tell us of his deer-in-the-headlights state. It worked for Novello's female fan base at the time, but not for us.Hitchcock too often works in this surface manner. He shrugs off any subtlety in pursuit of the big effect. The worst of these feature Roddy's father, Sir Thomas (Norman McKinnel), who bears a striking resemblance to Nosferatu and shows up late in the film in Roddy's wracked point-of-view in a slew of implausible guises.Still, I was interested enough in Roddy's journey, if only as a matter of historical interest. Early on, we see he is the genuine article, a real believer in the world he inhabits, holding a cap emblazoned with the word "Honour." There's a scene, arrestingly similar to the deconstructive Lindsay Anderson film "if…", where Roddy and his friend meet that girl in the bake shop. No playing tiger in this one, Roddy just dances with the girl a little and tries to make a polite exit, but the damage is just as much as if he broke out the tommy guns like Mick and company in that later, anarchic classic."Downhill" is a coming-of-age movie that only really works as a look at Hitchcock's own coming of age – before he arrived.
More
With their theatre play Down Hill Ivor Novello and Constance Collier produced another lampoon dealing with British boarding school life and the layers of society it depends upon. Ivor Novello attended a school like that himself (Magdalen College, Oxford) and the theme of his play seems authentic in its unlikeliness. A school boy takes the blame for 'getting a girl into trouble' although a friend is to blame. He is expelled not only from school but also from his posh family home. Without his father's backing life quickly goes down hill. After a short career as a Paris gigolo he ends up in the slums of Marseille. Hitchcock filmed Down Hill with his typical mix of 'suspense' and humour throughout the film. The camera zooms into terrified faces, goes down hill on an escalator and an elevator and picks up every shadow and shade on its way. Apparently Hitch had the final scenes tinted in a horribly yellowish green when the protagonist feels ill. Apart from the almost unneeded final act Downhill is a downright Hitch. Its climax is the Paris night club scene where the young and inexperienced taxi dancer and gigolo is awaited by a horny elderly woman who has already compensated his services yet to be rendered.
More