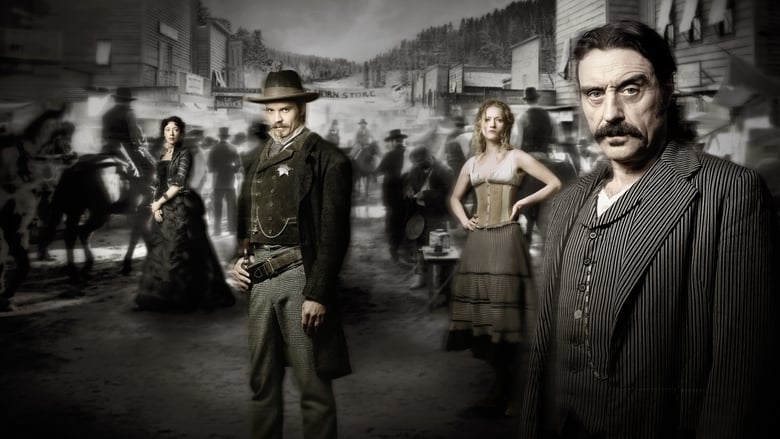 Deadwood Season 1
1876. The Black Hills Indian Cession, two weeks after Custer's last stand. Witness the birth of an American frontier town – and the ruthless power struggle between its just and unjust pioneers. In an age of plunder and greed, the richest gold strike in American history draws a mob of restless misfits to an outlaw settlement where everything – and everyone – has a price. The settlers, ranging from an ex-lawman to a scheming saloon owner to the legendary Wild Bill Hickok and Calamity Jane, share a constant restlessness of spirit, and survive by any means necessary. Welcome to Deadwood... a hell of a place to make your fortune.
...
Watch Trailer
Deadwood Season 1 Full Episode Guide
Episode 12 - Sold Under Sin
First Aired: June. 13,2004
In the first-season finale, Farnum and Tolliver take advantage of the arrival of a U.S. Army general. Adams teaches Clagett a thing or two about loyalty. Bullock reacts when Alma's father states his intentions regarding her claim.
Episode 11 - Jewel's Boot Is Made For Walking
First Aired: June. 06,2004
Adams helps Swearengen out of a jam. Jewel seeks out Doc for treatment. Leon and Eddie go back to work for Cy. Alma's father arrives from New York. The camp's choice for a sheriff doesn't please Bullock.
Episode 10 - Mister Wu
First Aired: May. 23,2004
Swearengen receives a double dose of irritation when a drug supply is stolen and bad news arrives from a nearby town. Rev. Smith is an unlikely customer at the Gem. Merrick hatches an idea for Deadwood's first club.
Episode 9 - No Other Sons or Daughters
First Aired: May. 16,2004
Swearengen makes an effort to set up an informal government. Anna and Bullock discuss Ellsworth. Jane receives a job offer from Utter. Tolliver agrees to let Stubbs strike out on her own.
Episode 8 - Suffer the Little Children
First Aired: May. 09,2004
A much-needed vaccine arrives in Deadwood. There are rumblings of a treaty with the Sioux. Swearengen is reluctant to accept advice from Farnum while Trixie is away. Alma reconsiders her plans for her gold claim. Stubbs learns an important lesson from Tolliver.
Episode 7 - Bullock Returns to the Camp
First Aired: May. 02,2004
Bullock's vigilantism makes new enemies. Utter returns to Deadwood to say goodbye to an old friend. Teenage siblings arrive on a quest to find their father. Alma holds on to her late husband's claim despite another offer from Farnum.
Episode 6 - Plague
First Aired: April. 25,2004
Bullock's form of vigilante justice meets resistance from the locals. The town fathers band together to fight an epidemic. Farnum reluctantly agrees to keep an eye on Alma and Trixie. Swearengen adds journalist to his colorful résumé.
Episode 5 - The Trial of Jack McCall
First Aired: April. 18,2004
The town buries its most famous casualty while the man responsible is tried in Swearengen's saloon. Trixie helps a widowed Alma care for an orphan. Doc warns of an impending epidemic.
Episode 4 - Here Was a Man
First Aired: April. 11,2004
Alma asks Hickok to investigate the tragic fallout of her husband's gold claim purchase. McCall plots revenge after being humiliated at poker. Charlie Utter departs camp for Cheyenne. Doc Cochran makes a house call to the Bella Union.
Episode 3 - Reconnoitering the Rim
First Aired: April. 04,2004
Believing he's been duped, Brom Garret threatens to call the Pinkertons on Swearengen. Star and Bullock finally reach a deal on their hardware-store property. A new gambling outfit arrives from Chicago.
Episode 2 - Deep Water
First Aired: March. 28,2004
Calamity Jane helps Doc protect a young girl who survived a recent massacre. New Yorker Brom Garret realizes he may not be cut out for prospecting. Dan mulls over a difficult order from Al Swearengen.
Episode 1 - Deadwood
First Aired: March. 21,2004
Former Montana marshal Seth Bullock starts a hardware business for miners, and the arrival of Wild Bill Hickok creates a stir. Meanwhile, a corrupt saloon owner brokers a land claim for a wealthy New Yorker.
Seasons
Similar titles